I had breakfast this morning jamming to Iron Maiden. Nothing tastes better than french toast with Number of the Beast blasting in the background.
So, as always, it has been forever since I last posted. Since my last post, a gazillion interesting things have happened. And yet at the same time, nothing at all has really happened. Life goes on.
I can't really remember where to start on covering the last few months worth of happenings. School starting is probably a good place. My schedule this year is really damn easy compared to last year.
1st. English 4 AP
2nd. No class
3rd. No class
4th. Government & Economics AP
5th. Newspaper
6th. No class
5:30-7:30 PM Mondays and Wednesdays I also have Italian at the Community College.
As anyone can tell, I have a few periods off to do random crap. It's nice. Fabian, Caitlin and I have made a habit of driving over to Sam's Club (ew, I know) to get a hot dog and a large soda for $1.50 during 2nd period. Yeah, you read that pride right. It's THAT cheap. And the only downside is it requires selling your soul to Wal-Mart.
As far as teachers go, I definitely can't complain this year. English teacher is Ms. Nelson, who is a crazy liberal lesbian who could probably beat up anyone in our school if she wanted to. She is really, really cool, but can sometimes take the whole outspoken liberal thing too far. But it's ok.
Mr. Hauenstein is my Gov. & Econ teacher, and he rocks. No elaboration needed on this one.
My Italian teacher, Frederico, is really, really nice, and is probably going to be the only reason I don't dread that class. Because honestly, I think I have an actual learning disability when it comes to foreign langauges. It is in no way acceptable.
This class is also sort of amusing because I've never been in a class with adults before. I'd say half our class is men and women over 30 years old. It's really interesting what age does to a persons ability to learn. Whereas teenagers are trained to accept that they are the bottom rung on the ladder of knowledge, and thusly must listen but never speak, adults have cast off those notions. And so now I have this class with a bunch of adults with their established ways and patterns trying to break themselves back into the process of listening and learning, as opposed to assuming they already know all there is to know. It can be really funny sometimes, especially when one of the people is some old guy with a really thick New York accent (Brooklyn, I guess) who always gets frustrated and asks Frederico "WHAT DO YOU WANT FROM ME?" in his mildly intimidating baritone.
In other non-education-related news, it's been raining a lot 'round these parts lately. Everything here has this unnatural vibrant green-ness to it lately. And there are flowers everywhere. EVERYWHERE.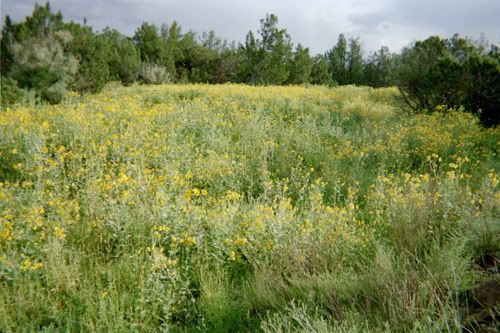 I've also been on this wierd 80's metal trip lately. I came inches away from actually buying a Dio cd. And if I'm not careful, I still might end up buying one. I don't know what that would mean about me as a person, but I'm sure it would have a detrimental effect on my dignity.
What definitely wouldn't hurt overall is if I started to write again. I'm fairly certain that I say that every time I post, and it hasn't stopped being true. I'm happier when I write. I can vent, reason, justify, explain, observe, relive and revive all the goings on in my life, the world, and random stuff in my head. But I have this weird thing lately where whenever I start to try and write something, I feel retarded. Not retarded in the 'lack of intelligence' way, but rather... I feel... embarassed. Or something. I don't know what it's all about.
I want to reconnect with old friends. I recently re-rediscovered a letter from an old friend of mine who moved away (I posted about her a while back) and I realized that she had written her phone number in the letter. Even though its been 3 years, I wonder if maybe she hasn't moved or changed phone numbers. And I wonder if I would ever have the guts to call her. And I wonder if she'd even remember me if I did. I wonder if she misses me as much as I do her.
And now for some random pictures: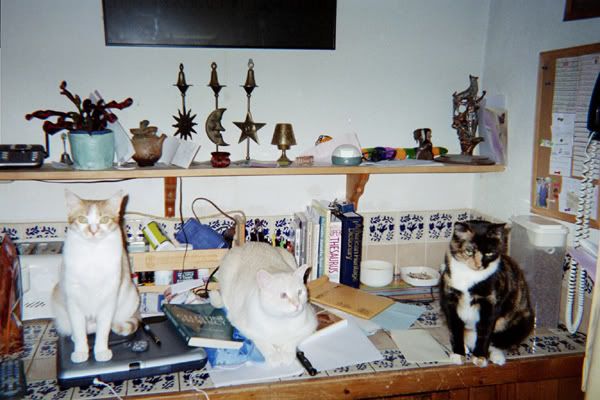 Those are my cats. From left to right: Mika, Twiggy, and Sybill.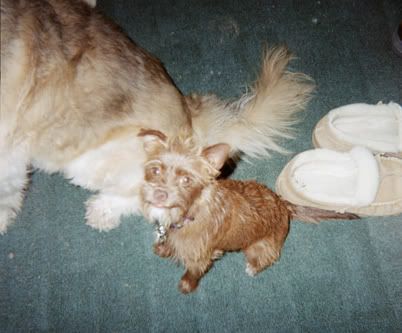 Thats my new puppy, Penny, and my dog Sam's rear end.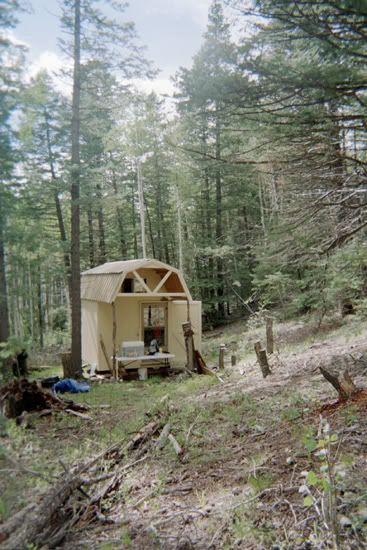 That's my dad's random mountain-man cabin thing up in the mountains. It's a nice place.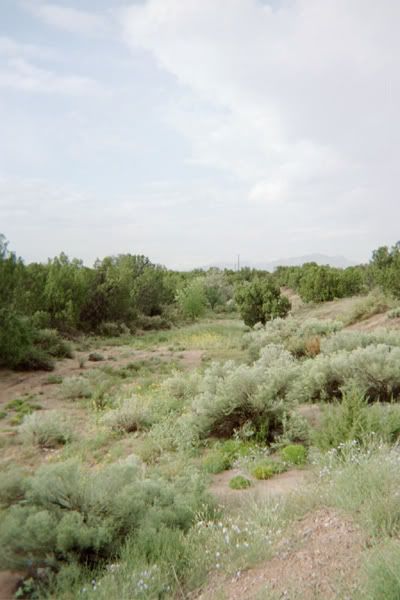 This is a random shot from the corner of my dog yard. Arroyo. Yay. I don't remember why this picture was taken. Maybe there was a flying saucer up the sky that I accidentaly cropped out.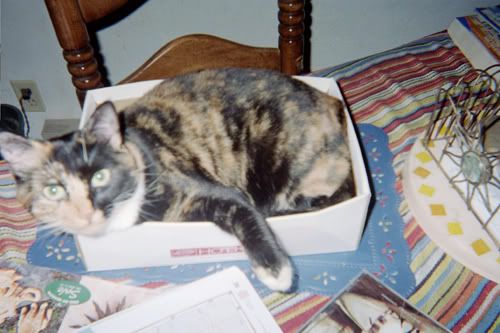 Thats Sybill, my cat-in-the-box. She has this really wierd obsession with laying in boxes that are way to small for her fat ass.
And that's all for now. I hope everyone had a happy sunday.
State:
indifferent
Noise: Changed your Mind by Chris Isaak